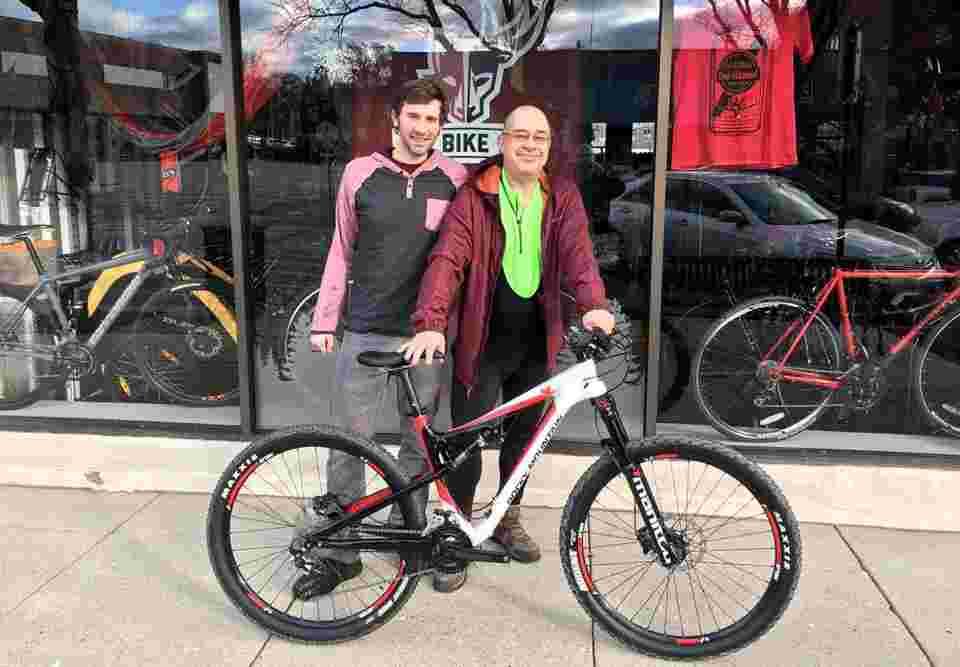 I bought a bike in 2011 because I wanted to lose weight and bicycling is the only exercise that doesn't make me want to cry.
I, in the throes of the Dunning-Kruger Effect*, decided that it was obviously the bike that was blocking my path to Über-ridership.
I'd been a road cyclist (with hints of proto-BMX) until I hit driver's license age. I knew I loved riding a bike. My basic plan was to commute by bike so I'd get exercise most days, without having to find time for it. It'd be baked right into my schedule. One thing I remembered about the lightweight road or racing bikes I had owned was their delicacy. I got good at fixing flats and truing wheels because I did it so frequently. Wanting something rugged enough to not need frequent TLC, I bought a low-end mountain bike. A Raleigh hardtail. It was around $500.00, which is not the lowest of low end, but it's a lot closer to the bottom than to the top.
This was fine until, later that same year, I was abruptly seized with the desire to ride a bike through an abandoned copper mine (A Single Track Mind). This was actual mountain biking, and I was immediately hooked.
For those of us with no inborn athleticism, mountain biking is hard. A couple of years passed and I, in the throes of the Dunning-Kruger Effect*, decided that it was obviously the bike that was blocking my path to Über-ridership. So I got a better hardtail, setting me back a bit over a grand.
I rode #2 for a few years, with improvement coming slowly. In a rare second wave of Dunning-Kruger, I got the (false) impression that the geometry of my bike was less safe than a bike with the latest frame geometry. Then, in the Fall of 2016, my favorite bike shop had a manufacturer's Demo Day at the forest preserve where I do most of my riding. On a whim I signed out a full-suspension beauty called a "Thunderbolt"…and  immediately set a personal best time on several segments of trail. On a bike I had never ridden before.
I asked the price. It was $2500.00. I went home, discussed it with Gina (whose response to my every mountain bike desire has been "go for it!") and called the shop to place the order. In November it was mine**.
I am still riding the Thunderbolt, and am under no illusions that I will ever be better than the bike is. With some recent upgrades, it now has a replacement value of over $4,000.00, so it definitely qualifies as my biggest purchase that I don't live in or drive.
Bizarre side note: The very first day I rode the Thunderbolt in the woods, someone who had seen my Facebook post and picture about it saw me riding and stopped to talk about the bike. He also asked about the shop where I had bought it, and whether they had been willing to negotiate on the price. But what he actually asked was, and I quote,  whether I had been able to "Jew them down" at all.
I just stared at him, dumbfounded.  I had literally not heard that term in a couple of decades. Then I softly said "we don't really like that expression" and stared at him some more, silently, before I rode away. Let him think he was alone in the forest with a pissed off Hebrew….
** It's better than that. It soon transpired that the exact model of Thunderbolt that I had test-ridden was going to be back-ordered for many months. The shop was a new distributor for that company, and me riding around on a bike no one else in Chicago had would be good word-of-mouth, so they offered to specially ship the one Thunderbolt that they had available to the shop. But…the one they had was the next model up, with a carbon fiber frame. It was $3,000.00. I regretfully told the shop owner that I had to stay on budget, and resigned myself to a long wait. Mark called the factory back, and negotiated a discount; I got it for the price of the lesser model. This is why I like to deal locally!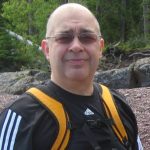 Dave Ventre
A hyper-annuated wannabee scientist with a lovely wife and a mountain biking problem.
Characterizations: right on!, well written