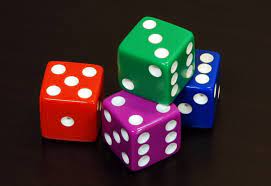 When I was growing up, my family had a ton of board games, and a finished room in the basement where we kept them all and played them with our friends or with each other. All of them involved rolling dice to determine which way or how far you moved your token. Chiefly I remember Parcheesi and Chutes & Ladders when I was really young (I loved climbing those ladders and sending others down the chutes), Monopoly and Clue when I was older, and finally Trivial Pursuit when that came out in 1981 and was all the rage for a while. I still like Clue, perhaps even better now after thirty years of practicing law. Trying to determine the killer, the weapon, and the room where the murder took place is a great exercise in deductive logic for all ages.
Board games with dice, mah jongg with dice, and the oldest established permanent floating crap game in New York.
We started many games of Monopoly over the years, but it was rare that we finished a game, because it took so long for someone to win. It was only many years later that I realized what the game was trying to teach us – that the way to succeed was to acquire a monopoly and therefore be able to extract exorbitant amounts of money from other people for using that monopoly. Indeed, the word "monopoly" only came into my vocabulary as the name of this board game, and it might have been in college that I first understood that it meant having the exclusive possession or control of some commodity. As a child I was more interested in the fact that all the properties in the game were named after streets in Atlantic City, and since we went to Atlantic City every year for my father to attend a medical convention, I liked to look for the streets that were in the game. We always walked on the Boardwalk, so that one was easy; some of the others were harder to find.
But back to dice . . . .
In all the board games I played, the dice were important because they told you how far to move your game piece.
In contrast, mah jongg, which I play now, uses dice in a very different way. In the first game of a session, everyone rolls the dice to determine who is East (like the dealer, but this person gets one extra tile and discards first), although in subsequent games the role of East rotates around the table. More importantly, a roll of the dice by East determines where the first wall is "broken" – akin to cutting the deck in cards – with part of the wall being moved out for immediate play, and the rest (equal to the number rolled on the dice) reserved to the end of the game. Neither function of the dice has any impact on the progress of the game, however, and a game could still be played even if you didn't have dice, whereas none of the board games could be played without dice.
The only game I know that is played exclusively with dice is craps, and I only know that game from the wonderful musical Guys and Dolls. For those who don't know the story, a character named Nathan Detroit runs "The Oldest Established Permanent Floating Crap Game in New York." I knew all the words to the song with that title before I had any idea what it meant.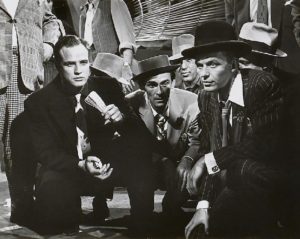 What's a crap game? What is a floating crap game? How can the game be permanent if it is floating? I didn't ever stop to wonder about those questions, I just enjoyed singing the song. Once you see the show (or the movie) it makes sense, but I listened to the original cast album long before I actually saw the show. It opened on Broadway in 1950 and ran for more than three years, but I obviously was too young to see it then. There was a Broadway revival in 1976, so I may have seen that, but it is likely that I saw it in a regional theater or summer camp production much earlier. Anyway, that's how I know about craps. (The photo is of Marlon Brando and Frank Sinatra shooting craps in the 1955 film version. Hard to tell what they're doing, but Brando is holding the dice in his hand.)
Finally, some other thoughts about dice. There are so many expressions in the English language related to dice. "No dice" means I'm not gonna do it.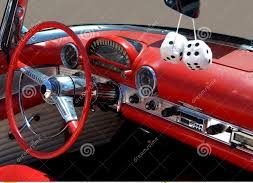 "The dice are loaded" means things are not going to turn out well. Calling a situation a "crap shoot" means it is risky or uncertain, and describing something as "dicey" also means it is risky or even dangerous. And then there are those fuzzy dice that people used to hang from the rear view mirror of their car, which were supposed to bring good luck. Does anyone still do that?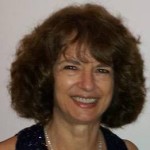 Suzy
Characterizations: right on!, well written