Shakespeare usually has something brilliant to say on a topic like this one: "What's in a name?/A rose by any other name would smell as sweet."
Like my cousin Mimi (actually Mary Elizabeth),
I was named Elizabeth Ann for our paternal grandmother, who was "Elizabeth Prensky Sarason" (so her headstone says), but I never heard anyone refer to her as that (of course she died years before I was born). She came from Kovno, Lithuania sometime in the 1880s and had eight children; my father was her youngest.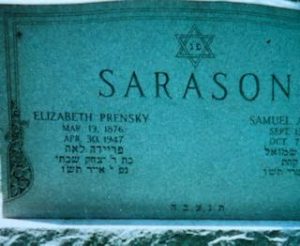 When my David was called to the torah as a bar mitzvah, we had to determine her Hebrew name, as that really is MY name and David's was his own and son of his father and mother. (Dovid Binyomin bin Daniel Reuven v Freyah Leah…David's whole name: David Benjamin, son of Daniel Robert and me. Dan was named for his uncle "Rubie", hence the Robert. The Benjamin in David's name was for Dan's grandmother Bessie, who passed nine months before David was born. Got all that?)
Her marker may call her "Elizabeth", but she was always called "Lizzie" in this country even though her name was "Freya Leah", my Hebrew name. Lizzie was a beautiful woman. I can see why my grandfather fell in love with her, on his return to St. Louis from traveling, selling his wares around Missouri, Arkansas and Mississippi. She was living in his sister's boarding house and was 16 when they first met, though older and already married in this photo, dated 1904, making her 27 or 28. Sam Sarason and a brother-in-law established general stores in St. Louis, Conway, AK and Greenville, MS. He predeceased Lizzie by four years.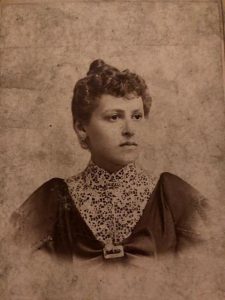 I was called Betsy from the day I was brought home from the hospital. I have always loved the name Elizabeth, but thought it was too long and formal for me. I am such a little person; it was just too big a handle for me. I loved that my name was regal, like the queens of England, but that just wasn't who I am (despite my pediatrician calling me "Princess Elizabeth"…was he teasing or commenting, I wonder?)
After reading "Little Women" in 5th grade, I felt for the tragic character Beth, who dies young, and went through a phase wanting to be called Beth. It was short-lived.
I always know when someone on the phone doesn't know me, but is trying to be familiar, usually trying to sell me something, and starts the conversation by calling me "Liz". I will respond that they want my sister-in-law, as that is not my name and hang up.
There are MANY nicknames for Elizabeth: Liz, Lizzie, Betsy, Betsey, Betsie, Beth, Betty, Liza, Lisa, Libby to name a few. I frequently get the spelling with the second "e" before the "y", but have never used that spelling and have never used the full Elizabeth except on legal documents. I have always been just Betsy. Very approachable.
As a youngster, the "Betsy Wetsy" doll was popular and I occasionally was called that. Woe to someone who tried that. Though I had the doll, I HATED the soubriquet and was a kicker (at least to naughty boys), so did not tolerate that nickname at all!
Taking my husband's last name after marriage presented a whole other challenge, particularly as I got into professional sales more than 40 years ago, before the Internet, when everything was done over the phone (setting up appointments, making initial contacts, etc.). Some wouldn't return my calls because they couldn't pronounce that last name (as a little boy, Dan thought his last name was "P as in Peter, F as in Frank, A, U"). On my first sales job, we sat in an open, bull pen space. My desk was just outside my manager's private office. He had to walk past me to get into his space, so he would often hear me spelling my last name over the phone and would "conduct" that little slogan listed above for the whole office to chant as he passed by. While working for the next company, I began a collage of misspellings of the last name, much to my sisters-in-law's delight. Here are some examples.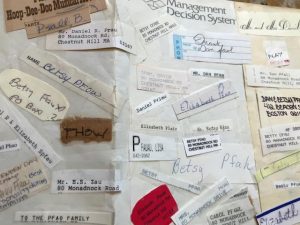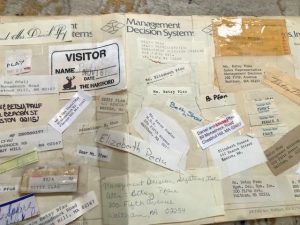 Sean "Puff Daddy" Coombs was popular when David went off to overnight camp. Not knowing what to do with that last name, the kids in his cabin dubbed him "P-diddy", or "Puff-Daddy", sort of using the PF sound from the last name and the "D" from David for the "diddy" or "Daddy", so that became his camp nickname. I think he was OK with it. It didn't seem like malicious teasing. I still get "Pu-Faw" as a mispronounciation. I tell people the "P" is silent, and the name rhymes with "wow" (then I'll do jazz hands for emphasis).
We haven't had many other nicknames in our household. I had a pet name for Dan when we were young. I will occasionally resurrect it on cards. I can't even remember how I came up with it now, except that it sounded vaguely Yiddish. He called me that name too, but it was strictly a term of endearment.
People who have known Dan a very long time call him Danny, but that has all but fallen by the wayside, just as my brother was Ricky as a child, but became Rick in adulthood. I seem to be the only one who never went from Betsy to Elizabeth. Betsy is who I am.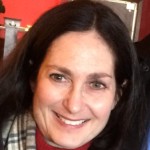 Betsy Pfau
Retired from software sales long ago, two grown children. Theater major in college. Singer still, arts lover, involved in art museums locally (Greater Boston area). Originally from Detroit area.
Tags: Betsy, Beth, Betty, Lizzie. Puff-daddy
Characterizations: well written