While reading the "Highway" stories, this old memory bobbed to the surface….
It was a June night of thunderstorms in central New Jersey
I came to lying in her alley in the rain, still crying.
I had not been out long, only seconds; faints generally end after you are horizontal. She had taken advantage of the love I that still had for her for her own convenience, then dismissed me, again. I'd gotten maybe ten feet from her door when I was overwhelmed by adrenaline and shame and syncope and my vision became all black motes that merged into darkness as I stumbled into the concrete wall and collapsed.
I picked myself up, got into my car and, after taking some minutes to compose myself, started the trip home.
It was a June night of thunderstorms in central New Jersey, and as I drove south on the Turnpike toward New Brunswick, cursing myself for a fool, another one rolled in. Heavy rain, poor visibility and bright flashes. And still, in bursts, tears. I slowed down and moved to the right, steering by the reflectors embedded in the solid white line of the breakdown lane.
As I drove, for some reason, some insane manifestation of a broken heart and wounded ego, I started to compose a song. I heard it in my mind as a country song, although I don't really like country music.
All I remember now is the chorus:
"It's fifteen miles to 14A and lightning splits the sky/She's done it to you once again, no need to wonder why."
Whatever the rest of it was, I am sure it was nothing to make the songwriters in Nashville nervous. But I know it was a song because 14A is the Bayonne exit, where I grew up. I didn't live there any more; I lived in New Brunswick.
New Brunswick is Exit 12. But 14A scanned better!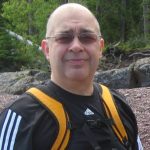 Dave Ventre
A hyper-annuated wannabee scientist with a lovely wife and a mountain biking problem.
Tags: highway, driving, storm, love, heartbreak
Characterizations: well written