I have always been easily distracted. Mom used to joke that I had "the attention span of a gnat." Later, when I was studying aquatic biology, I decided that mayfly was more accurate.
Mom used to joke that I had "the attention span of a gnat."
I think it's becoming more pronounced, although quantification is impossible and it's easy to blame one's shortcomings on creeping senility. Or the internet. Computers. The media. Kids These Days. Or maybe it's the near-constant drumbeat of ominous developments under which we all operate now; who can stay on-task when something terrible might suddenly crawl out from under the bed?
I don't know. But I do remember the joy of spending hours immersed in something enjoyable. I actually remember the first time that I noticed such immersion as a phenomenon in and of itself.
I was a photographer and occasional reporter for our college newspaper. As such, I had keys to our darkroom in a house off campus, back when there were darkrooms. I learned some rudimentary techniques, and processed my own photoshoots. But one winter Sunday morning, I decided to use the paper's darkroom to develop and print a roll or two that I had shot for myself. For a few hours I would immerse myself in the world of developer and stop bath, safe lights and enlargers, masks, dodging and burning. I'd forget about organic chemistry, Maria, calculus and my precarious GPA.
When I emerged, it was full dark. The stars were out. I realized that a few hours in the darkroom had somehow become the entire day. I'd skipped both lunch and dinner and never noticed being hungry. For the rest of my time at college, the darkroom was my sanctuary, my chapel, my refuge.
Immersion.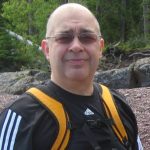 Dave Ventre
A hyper-annuated wannabee scientist with a lovely wife and a mountain biking problem.
Tags: concentration, flow, immersion, attention, refuge
Characterizations: moving, well written