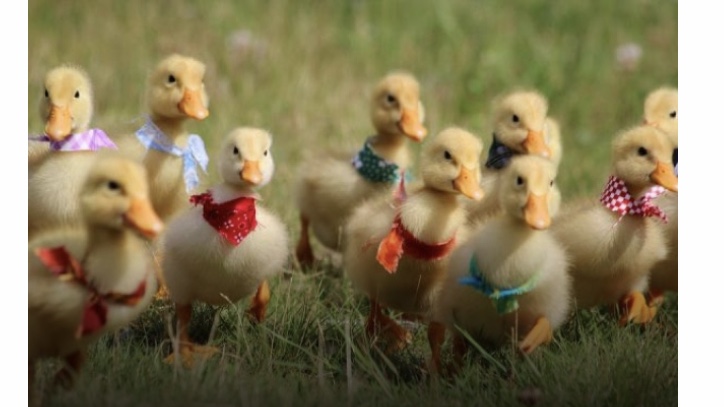 It's not hyperbole to say my friend Judy was the most thoughtful and giving person I've ever known.  Rather than randomly kind,  Judy was always kind.
I met her a few months after I started dating my husband Danny.   He and I had driven from New York to Boston to spend New Year's Eve 1967 with Danny's  college roommate Kenny and his wife Judy.   I liked them both immediately,  but over the following many years geography kept us apart.   Although Kenny and Danny spoke often and had their college friendship to build on,   Judy and I saw each other too seldom to form a really close bond.
But Judy's thoughtfulness was evident every time we were together.   I remember once when we were visiting she had baked a batch of delicious chocolate chip cookies.   Speaking to her on the phone a short time later I asked for the recipe.  "I'll send it to you.",  she said.
A few days later a package arrived with a copy of Mark Bittman's How to Cook Everything and a note from Judy that read,   "See page 711 for cookie recipe,"
Then in 2009 something wonderful happened –  Judy and Kenny called to tell us they'd just bid on an apartment near Lincoln Center,  and planned to spend many weeks a year in New York.   And they asked us to write a character reference for the coop board.
We wrote a glowing letter of course,  although in the name of friendship we perjured ourselves by an act of omission.   We didn't tell that Manhattan coop board that Kenny was an insufferable Red Sox fan.
They got the apartment,  surely thanks to our great letter,  and during those Manhattan years we saw them whenever they were in town.   Judy and I finally had the chance to really become friends and over a private joke we shared we started calling each other Ducky.
Then after a few more years they decided to spend more time in San Francisco where Judy had family.  They had to work up the nerve over dinner to tell us they were selling the New York apartment afraid we'd be upset … and we were!
But thinking about Judy and her special grace,   I remember something that happened many years ago when Danny and I were in Boston for the Bar Mitzvah of our friend Joel's son Jonah.   We were staying with Judy and Kenny for the weekend,   and in fact that may have been the time we got into bed to find their dog had hidden his scratchy rawhide bone between the sheets!
On Saturday morning we went to the synagogue and I sat next to Judy.   I was watching Jonah on the bimah,  and as the service grew to a close I heard the familiar words of Kaddish,  the Jewish prayer for the dead.   My mother had died a few months before,  and hearing Kaddish I started to cry.   I closed my eyes trying to hold back my tears and muffle my sobs when I felt Judy's arms around me.
"I'll hold you,"  she whispered,  "let yourself cry."   How did she know in the moment just what I needed?
Then one day we got the devastating news that Judy had been diagnosed with cancer and would undergo chemo in Boston.   We started sending her New York treats every time she had an infusion – cheese cakes,  lox and bagels,  once even a salami.  And I also started sending her pictures of ducks,  giving them funny names to make her laugh.   She especially liked the one with the little bandanas I called the Willie Nelson Ducks.
Sadly,  Judy died three years after her diagnosis, and I still think of her often.   And among her many charms I remember her wonderful artistic sensibility,  and the unusual gifts she always chose.   In fact the last gift Judy gave me was a beautiful hand-painted wind chime crafted from a wine bottle.   A cooper disk hung inside designed to hit the glass when it swayed in the breeze.
But it was so lovely and looked so fragile that I decided to keep it indoors instead.   I put it on our bookshelf,  and as I realize now,  without looking at it very closely.
Recently on an impulse I decided to hang it out-of-doors where it really belonged.   I took it off the shelf,  and holding it in my hand my heart stopped.
I noticed something I hadn't seen before.   Painted on one side of the bottle – the side that had faced the wall all those months – was the image of a black cat.    Judy knew how much we had loved our beautiful black pussycat Smokey.
Ah Ducky,  my kind friend,  you never stop giving,  do you?
Dana Susan Lehrman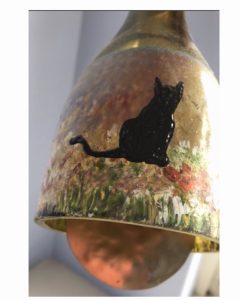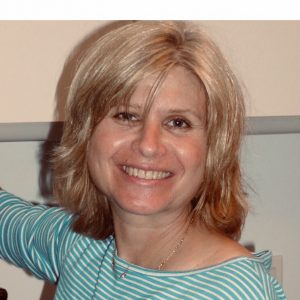 Dana Susan Lehrman
This retired librarian loves big city bustle and cozy country weekends, friends and family, good books and theatre, movies and jazz, travel, tennis, Yankee baseball, and writing about life as she sees it on her blog World Thru Brown Eyes!
www.WorldThruBrownEyes.com
Tags: Friendship