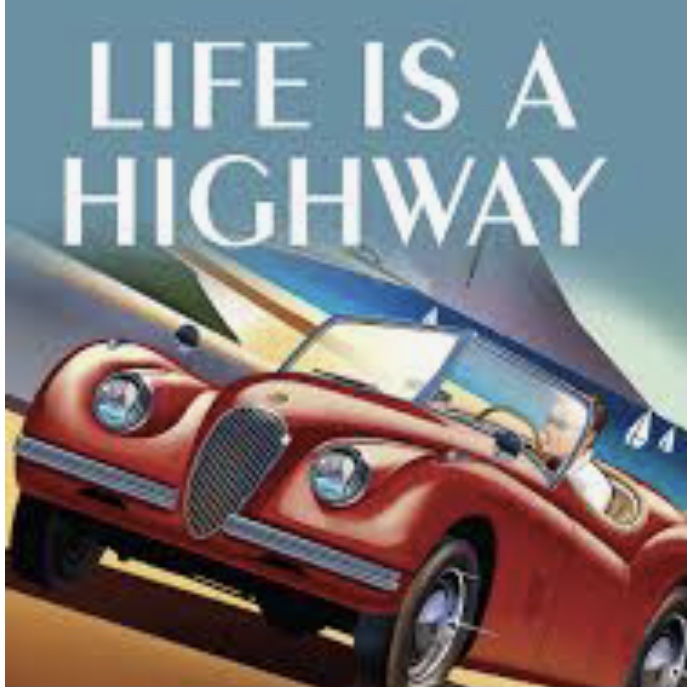 You may remember that I've banged up a few cars in my day, including my husband's beloved T -bird.  (See Fender Bender and Rainy Night on the Highway)
Finally I decided it was time to face the music and so early one Sunday morning I found myself at a mid-town hotel for a day-long AAA defensive driving course.
Our instructor was a very likable guy named Freddy who told some funny stories about cabbies and delivery guys on bikes that got lots of laughs from our roomful of New Yorkers.  Then Freddy opened his laptop,  projected a short video on a wall screen,  and began to deliver an informative defensive driving tutorial when I realized his tips for navigating the road seemed like sound advice for navigating through life as well.   Here are my notes.
"Keep your eyes on the road ahead … expect some bumps along the way … when you're in a tight spot you may have to back up before you can move forward … ask for a push if you're in a rut … get out of the driver's seat if it starts to feel uncomfortable …  and always be prepared for stormy weather."
At 4:00 when our session ended Freddy stood at the door to shake our hands,  and we filed out of the room to the Rascal Flatts song Life is a Highway now playing on his laptop.
Life's like a road you travel on
When there's one day here, and the next day gone  
Sometimes you bend,  sometimes you stand
Sometimes you turn your back to the wind.
Thanks Freddy,  and safe journeys everyone!
Dana Susan Lehrman
Dana Susan Lehrman
This retired librarian loves big city bustle and cozy country weekends, friends and family, good books and theatre, movies and jazz, travel, tennis, Yankee baseball, and writing about life as she sees it on her blog World Thru Brown Eyes!
www.WorldThruBrownEyes.com
Characterizations: funny, moving, well written