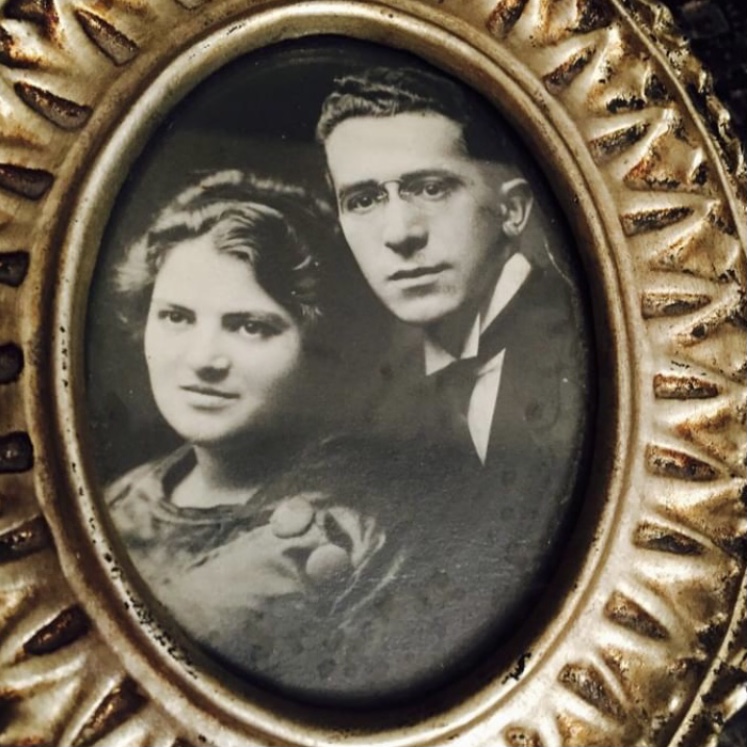 HANNAH & HENRY  circa 1915
In the early 20th century there was an influx of East European Jews coming to the States seeking refuge from troubled times at home.   Among them was my maternal grandfather Henry who came with his widowed mother Gertrude,   his younger brother David,  and Gertrude's elderly and blind widowed father.   They came from the town of Obertyn,  then part of the Austro-Hungarian Empire,  now part of Ukraine.
Gertrude's late husband had been a sofer,  a skilled scribe entrusted to pen sacred Torah scrolls,  each containing the five books of the Bible.
In fact when the young widow arrived in New York and was questioned by immigration officials,  she said her late husband was "Moishe the sofer",   and thus she entered the States as Gertrude Soffer.
The family settled into their new life except,  understandably,  for Gertrude's father.  Blind and unable to speak the language,  the old man begged to return to Europe and it was decided that young Henry would accompany his grandfather on the ship,  and then return to New York on his own –  and he did.
Living in the beach town of Far Rockaway,  Henry and David became good swimmers,  but one day when the brothers were teenagers tragedy struck.  Swimming far from shore David developed a cramp it was believed,  and he drowned.  Years later I was named for David,  who,  had he lived,  would have been my great-uncle.  (See Call Me by Their Names)
Henry was a good student,  attended law school,   and became an attorney.   He met and married my grandmother Hannah whose family had emigrated from Romania,   and they had two sons and a daughter who would become my mother Jessie.  (See Art Imitates Life)
Then in 1938 New York's Mayor Fiorello LaGuardia appointed my grandpa Henry to  a city judgeship.  The young boy who had sailed alone from Austria had come a long way.
Dana S. Lehrman
Dana Susan Lehrman
This retired librarian loves big city bustle and cozy country weekends, friends and family, good books and theatre, movies and jazz, travel, tennis, Yankee baseball, and writing about life as she sees it on her blog World Thru Brown Eyes!
www.WorldThruBrownEyes.com
Tags: Family, Refugees, Grandfathers
Characterizations: moving, well written