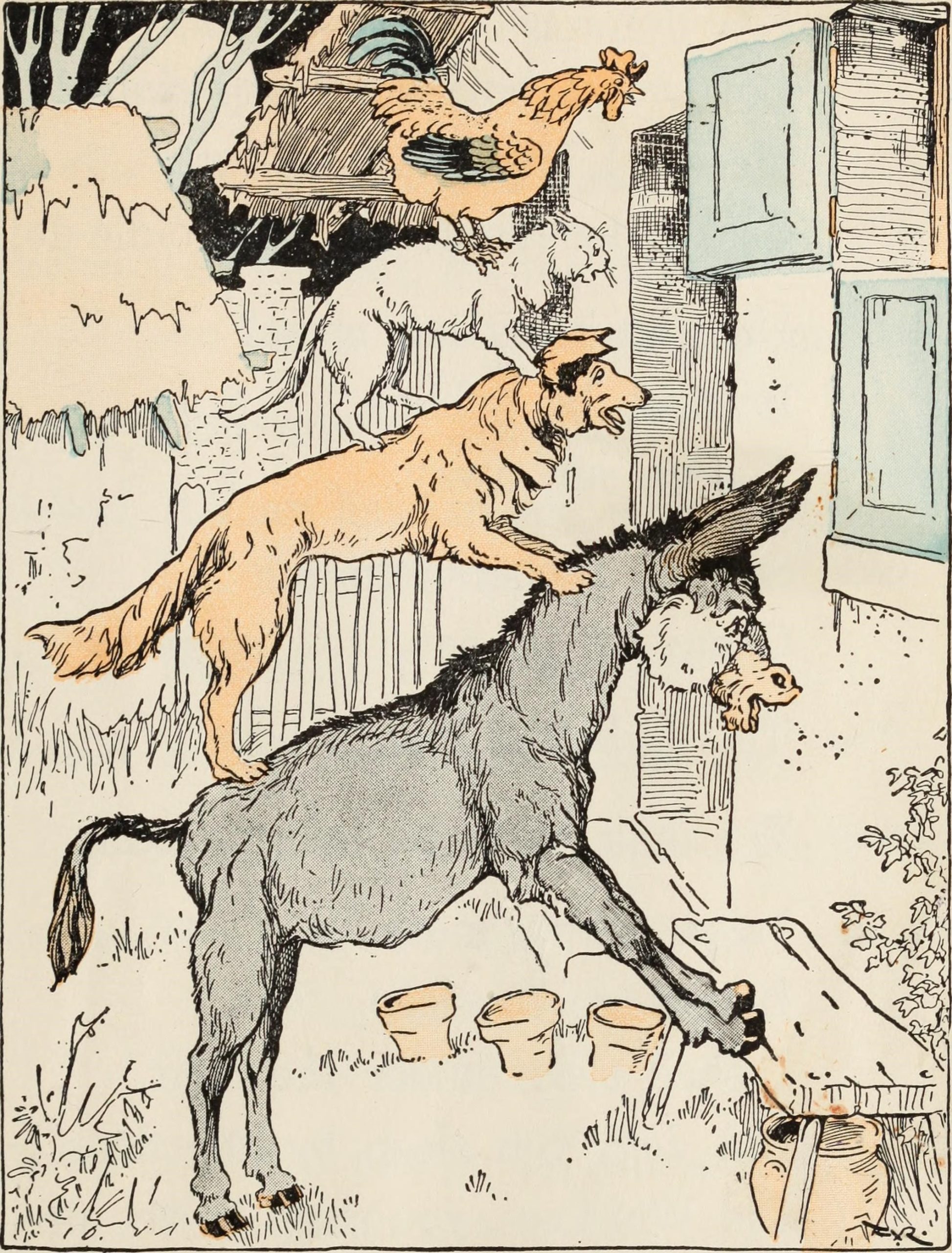 I hardly remember the details of this fairy tale, but my mom tells me that at about age three, I was absolutely fascinated by one of the images in the Little Golden Book version of "The Town Musicians of Bremen." There was something about the four animals–a donkey, dog, cat, and rooster–working together and looking into the window of a house, that resonated. I have no idea why my three-year-old self picked this image, but it is delightful, and one of the most touching moments in the story.
The original of this Grimm fairy tale was published in 1819, and it is odd indeed.
Thanks to Wikipedia, I now know more about the story. The original of this Grimm fairy tale was published in 1819, and it is odd indeed. The four animals were aging, and had outlived their usefulness on the farm, and were either neglected or mistreated by their owner. (I find this very meaningful now, but I doubt this angle made it into the Little Golden Book.)
The foursome set off, intending to become musicians in the German town of Bremen. On the way they came to a house, and when checking it out in the manner shown in the featured image, saw a band of robbers enjoying their ill-gotten gains. The animals worked together to scare off the robbers, with a lot of violence in the original story.
The animals never made it to Bremen, but stayed comfortably in the house. Wikipedia gives a code that is used by folklore specialists that indicates that it is a type of story found in other countries as well. The message of the story? As an adult, I'm impressed by the lessons about teamwork, and that elders aren't useless and deserve respect. What I loved as a child is the gentle humor of the four different animals collaborating to find a safe refuge, and revisiting that part of the fairy tale has given me a smile.
Marian
I have recently retired from a marketing and technical writing and editing career and am thoroughly enjoying writing for myself and others.
Characterizations: well written