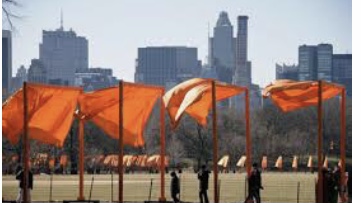 The Gates – Central Park, New York  2005
Originally published for the prompt Do You Believe in Magic?,  I hope you'll read or reread this story now!
The Inexplicable Magic of The Gates 
I'm an art-lover and avid museum-goer with what I guess is eclectic taste.   For example I don't like abstract art.  (See In the Abstract)
And yet though I prefer representational art,  I also like art that's a bit phantasmic like Franz Marc's blue horses,  and Marc Chagall's flying bovines.  (See Chagall's Cows)
And there are two contemporary artists with radically different styles whom I admire and whose artwork I own.   (See Danielle Mailer, Artist Extraordinaire,  and Our Philip Pearlstein Nude)
I also greatly admire Judy Chicago whose art carries a message that resonates.  (See The Dinner Party)
And I enjoyed the creativity of my parents who were both artists.  (See Still Life and My Father, the Outsider Artist)
But in a class by itself are the site-specific installations by Christo and Jeanne-Claude.  As you may know,  Christo and Jeanne-Claude's world-famous projects include Berlin's Reichstag,  the building the couple and their crew wrapped in 100,000 square meters of silver fabric in 1995;  and the 1991 Umbrellas Japan – USA project when they erected over 3,000 giant blue and yellow umbrellas simultaneously in Ibaraki,  Japan and on the Tejon Mountain Pass in California.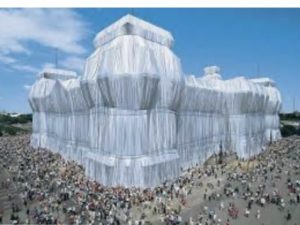 Wrapped Reichstag – Berlin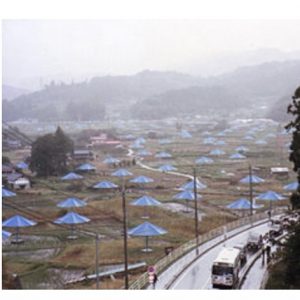 Umbrellas – Ibaraki, Japan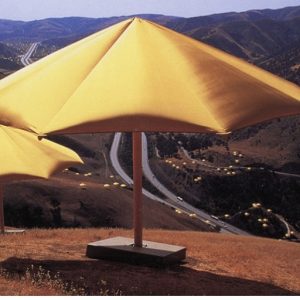 Umbrellas – Tejon Mountain Pass,  California
Both born in 1935 – he in Bulgaria and she in Morocco of French parents –  Christo Javacheff and Jeanne-Claude Denat de Guillebon met as young artists in Paris,  married in 1960 and began working together to conceive,  elicit funding,  and install their environmental projects.
Jeanne-Claude died in 2009,  and Christo in 2020,  and the following year both were honored posthumously in Paris when their former crew wrapped L'Arc de Triomphe in 25,000 square meters of silvery fabric and 3,000 meters of red rope.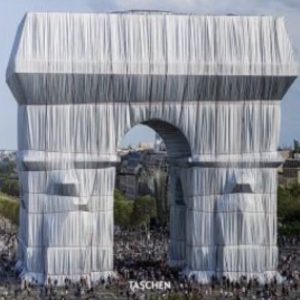 Wrapped L'Arc de Triomphe – Paris
But thankfully back in 2005 we New Yorkers got to know them when Christo and Jeanne-Claude brought The Gates to Central Park.
The artists and their crew installed 7,500 vinyl "gates" along 23 miles of pathways in the park and hung panels of orange fabric from each.   Then on February 12,  New York's Mayor Bloomberg,  with Christo and Jeanne-Claude at his side,  officially opened the exhibit and for two weeks thousands of New Yorkers and tourists walked through the park and passed under The Gates.
Of course the project had it's detractors – some  felt the installation defaced the landscape or obstructed cyclists or prevented visitors from enjoying the park.   But for me and I'm sure for most of us who walked under The Gates in that grim February weather,  the experience seemed inexplicably magical,  as if a ray of sunlight was following us thru the park!
And it was a constant topic of conversation.   "Have you seen The Gates yet?",  we asked our friends,  and I even remember asking strangers on the bus.   And day and night Central Park was full of happy crowds.
Each time I was in the park everyone I saw seemed to have the same reaction – an irresistible urge to smile,  and inevitably I bumped into someone I knew,  and I even met my mailman there one day.   And once I passed a guy with a very frisky dog  on a leash.   "She's not always this excitable",  he said pointing to his dog,  "she feels the energy and knows something special is going on."
At that time my friend Shel and I played tennis in the evenings at courts north of the city.   Driving home I'd take the 96th Street transverse through Central Park,  and turn south on Fifth Avenue.   Then driving down Fifth I could see some of The Gates that extended to that corner of the park,  and as I drove by the sight always made me smile.
Then one night coming home from tennis,  I exited the transverse and heading down Fifth I turned my head to look toward the park,  and my heart sank.
The exhibit had ended and The Gates and their inexplicable magic were gone.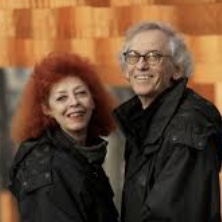 Jeanne-Claude and Christo
– Dana Susan Lehrman
Dana Susan Lehrman
This retired librarian loves big city bustle and cozy country weekends, friends and family, good books and theatre, movies and jazz, travel, tennis, Yankee baseball, and writing about life as she sees it on her blog World Thru Brown Eyes!
www.WorldThruBrownEyes.com
Tags: The Gates, Christo, Central Park, New York City